nestled among meadow grasses, bellflowers, water lilies, and other plantings, visitors to the new york botanical garden can find themselves immersed in polka-dotted trees, monumental floral sculptures, and enormous 'dancing pumpkins' as part of an expansive exhibition of work by japanese artist yayoi kusama. from april 10 – october 31, 2021, KUSAMA: cosmic nature takes place across the garden's 250-acre landscape, in and around the enid a. haupt conservatory, and in the luesther t. mertz library building. the exhibition traces the artist's lifelong fascination with the natural world and highlights its countless manifestations, rooted in her childhood spent in the greenhouses and fields of her family's seed nursery in matsumoto, japan. kusama's signature organic forms and mesmerizing paintings of plants and flowers are also presented, with recent observations of nature shown alongside earlier works never publicly exhibited before.
'we were attracted to kusama's work because it's magnetic and draws you in, but also because of the prevalence of natural forms no matter the medium,' joanna groarke, NYBG's director of public engagement and library exhibitions curator, tells designboom. 'the fact that her interest in nature leads her to make these shifts, from the forms that resemble cells viewed on the microscopic level, to flowers and pumpkins, to mirrored environments that offer a glimpse of the cosmos, is something that I think we all learned to appreciate more as we worked on this exhibition'.

my soul blooms forever, 2019, the new york botanical garden
urethane paint on stainless steel, installation dimensions variable, collection of the artist
courtesy of OTA fine arts, victoria miro, and david zwirner
from monumental polka-dotted pumpkin sculptures to abstract paintings that resemble magnified cells, kusama's artistic universe suggests the patterns that can be observed in the world around us. her concepts of obliteration, infinity, and eternity are drawn from her intimate engagement with the colors, patterns, and life cycles of plants and flowers. 'the works in the exhibition reveal kusama's connection to — and conception of — nature,' groarke continues. 'there is a common thread that runs throughout kusama's work from her early sketchbook to the present. whether depicting flowers, pumpkins, or more abstract forms, she's engaging with nature.'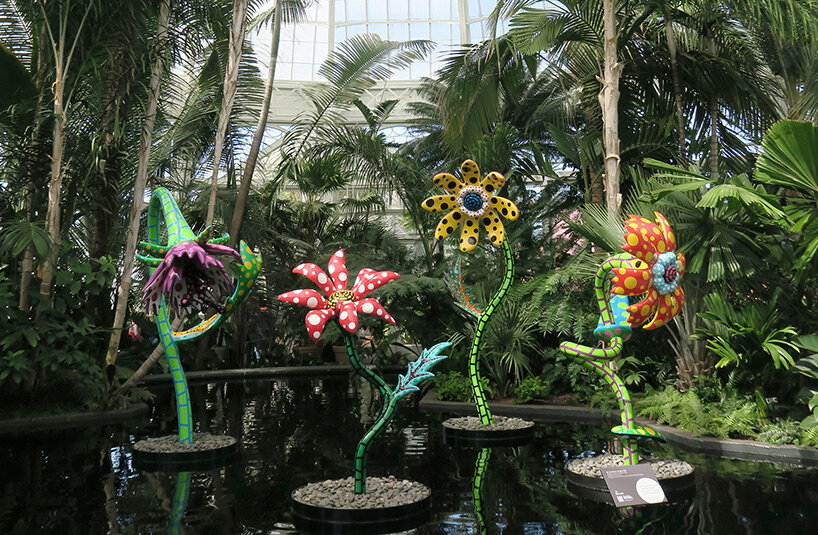 my soul blooms forever, 2019 at KUSAMA: cosmic nature
image © paul clemence from ARCHI-PHOTO (also main image)
on the conservatory lawn, visitors encounter the monumental 'dancing pumpkin' — one of four works created for and debuting in KUSAMA: cosmic nature. both playful and powerful, the 16-foot-high bronze sculpture is painted in black and yellow, and finds a home amid an immersive landscape of river birches, flowering plants, grasses, and ferns. the setting is inspired by the sculpture itself and the birch forests near kusama's childhood home. as they continue to meander through the NYBG's 250-acre landmark landscape, visitors can marvel at the bright, purple-tentacled floral form with a vivid yellow primordial face of 'I want to fly to the universe' sitting in the visitor center reflecting pool, and then behold 'ascension of polka dots on the trees', where soaring trees wrapped in vibrant red and white polka dots emerge from the landscape. meanwhile, installed in the 230-foot-long water feature of the native plant garden is 'narcissus garden' featuring an arrangement of 1,400 stainless steel spheres. the reflective orbs float on the water's surface and move with wind and currents, each mirroring the environment around them.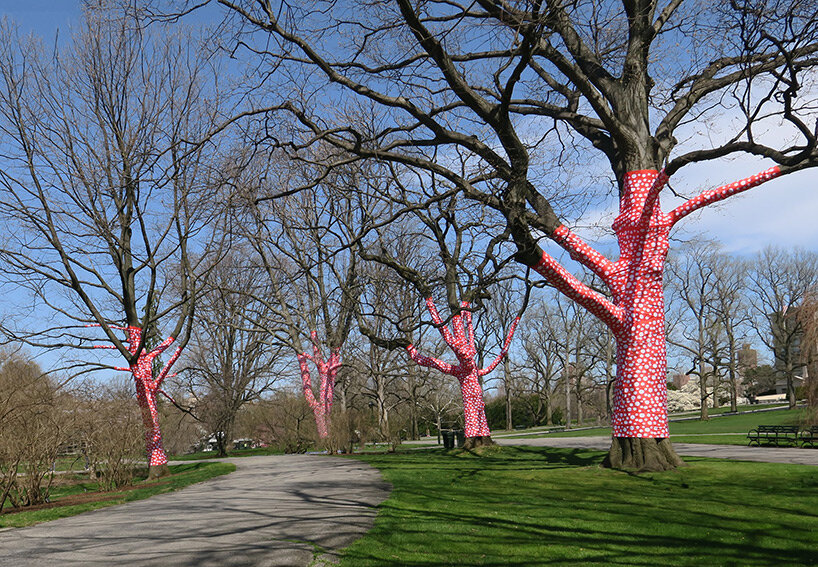 ascension of polka dots on the trees, 2002/2021
image © paul clemence from ARCHI-PHOTO
within 'flower obsession' — kusama's first-ever 'obliteration greenhouse' — visitors are invited to apply coral-colored floral stickers to furniture and household objects. over the course of the exhibition, the accumulating stickers will transform the site with repeating patterns and forms of flowers that represent kusama's key concepts of obliteration, infinity, and eternity.
with interior access planned to begin this summer, a new 'infinity mirrored room' will operate per new york state and city guidelines for social distancing and visitor safety. the installation responds to natural light through colored glass throughout the day, reflecting the seasonality of NYBG's landscape. the exterior will be on view with the opening of the exhibition.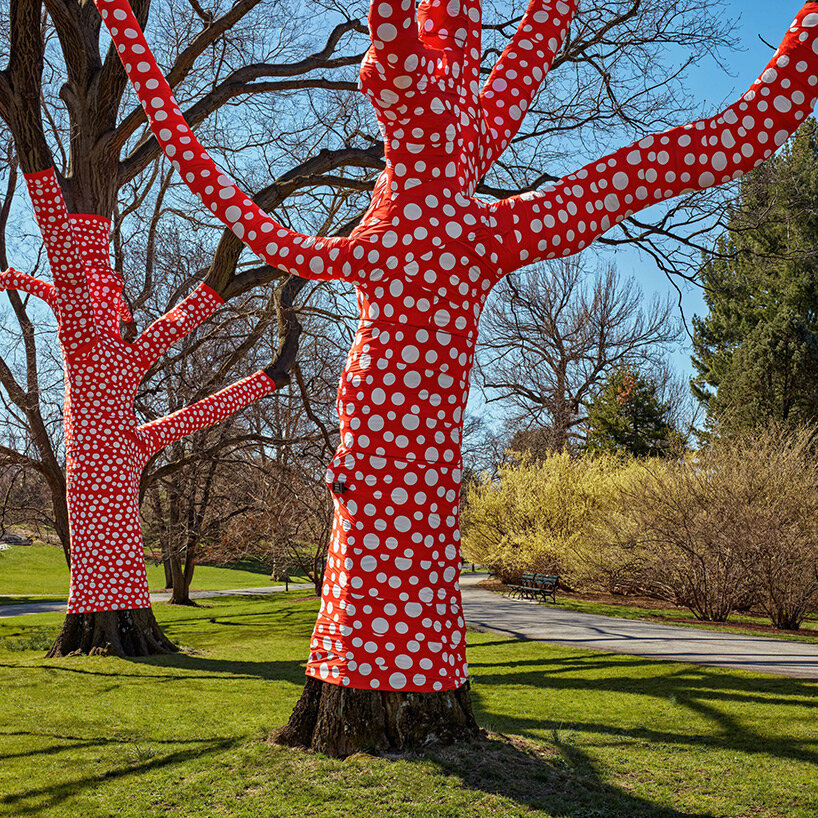 ascension of polka dots on the trees, 2002/2021, the new york botanical garden
printed polyester fabric, bungees, and aluminum staples installed on existing trees
site-specific installation, dimensions variable, collection of the artist
meanwhile, three galleries in the conservatory feature a celebration of kusama's self-proclaimed biophilia. the colossal polka-dotted flowers of 'my soul blooms forever' are painted in dramatic colors, and greet visitors under the recently-restored dome of the 'palms of the world gallery'. in the seasonal exhibition galleries, the pink-and-gold mosaic 'starry pumpkin' is featured among a woodland garden of foliage and flowers. 'my pumpkins, beloved of all the plants in the world,' kusama has said of pumpkins. 'when I see pumpkins, I cannot efface the joy of them being my everything, nor the awe I hold them in'. finally, in the conservatory courtyard hardy pool, the oversized, fiberglass flowers of 'hymn of life — tulips' are placed among water lilies and other seasonal aquatic plantings.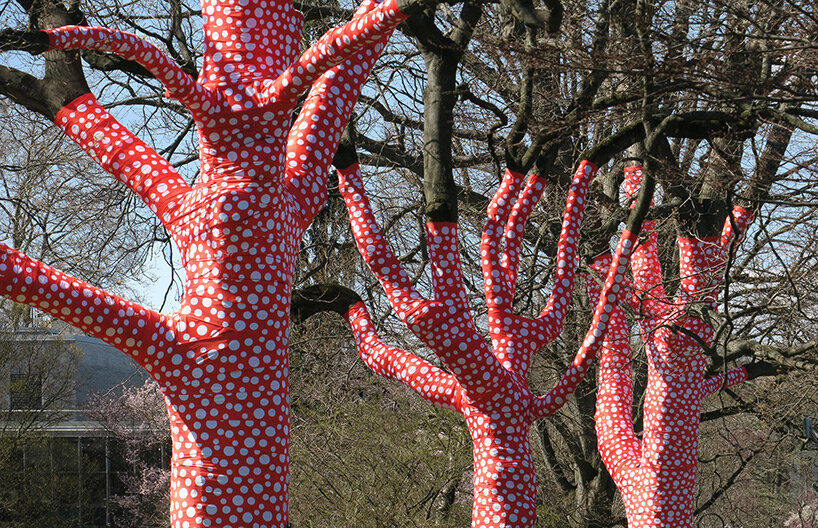 ascension of polka dots on the trees, 2002/2021
image © paul clemence from ARCHI-PHOTO
'kusama's work is just unlike anyone else's,' groarke tells designboom, detailing kusama's enduring appeal to audiences worldswide. 'whether it's monumental and bold, like 'dancing pumpkin' and 'I want to fly to the universe', or more contemplative, like 'starry pumpkin' in the center of a lush floral planting, it's irresistible. we're hoping that our visitors will also be inspired by the beauty and power of nature, and by having a chance to view the natural world through the eyes of yayoi kusama. seeing the work installed here at the garden, having the experience of walking the grounds and coming upon each work, is a unique experience all on its own. and to experience how the work changes in nature, and how it transforms our landscape, is very special.'
KUSAMA: cosmic nature is on view from april 10 – october 31, 2021, with tickets available to purchase here.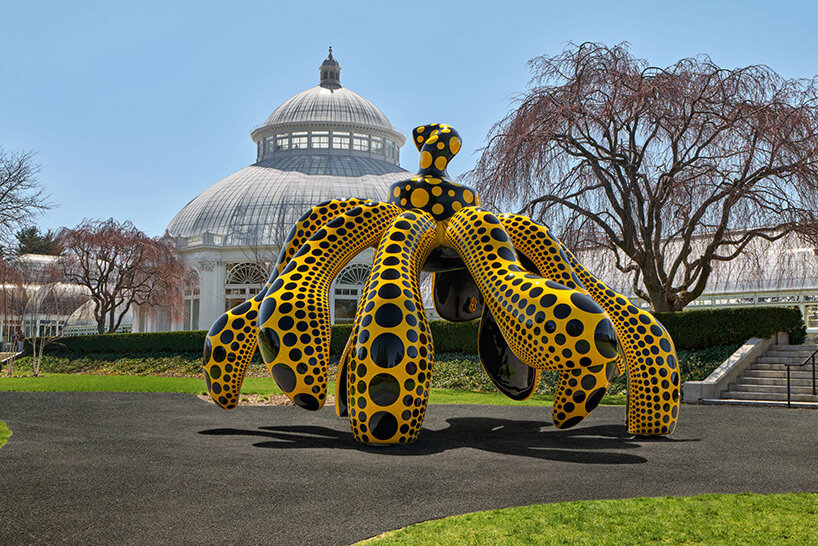 dancing pumpkin, 2020, the new york botanical garden
urethane paint on bronze, 196 7/8 x 116 7/8 x 117 ¼ in. (500 x 296.9 x 297.8 cm)
collection of the artist, courtesy of OTA fine arts and david zwirner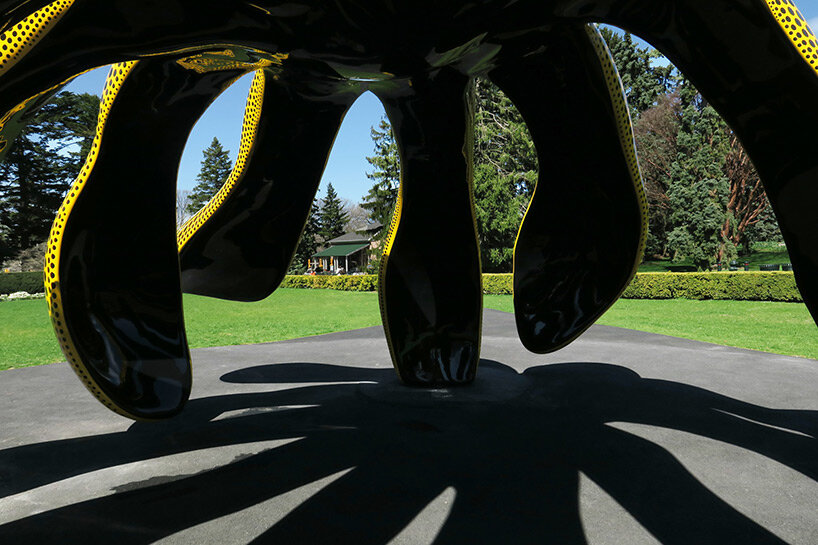 dancing pumpkin, 2020
image © paul clemence from ARCHI-PHOTO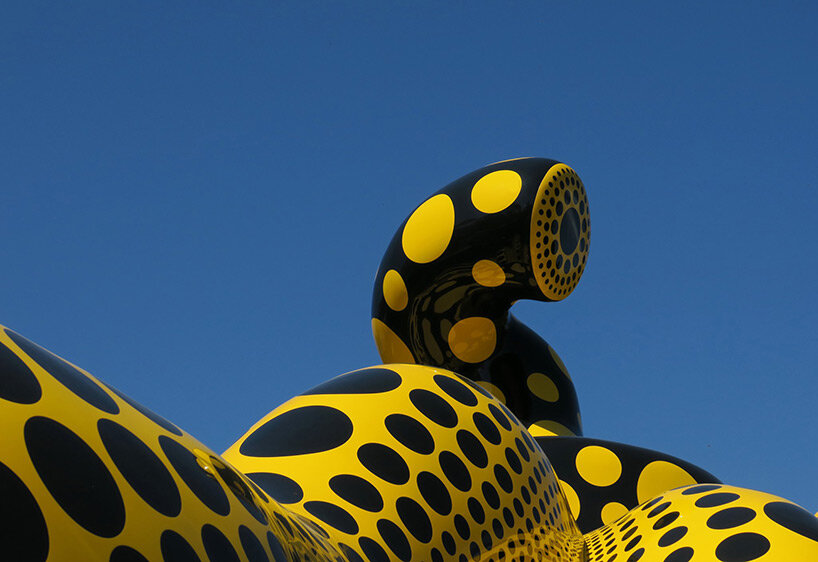 dancing pumpkin, 2020
image © paul clemence from ARCHI-PHOTO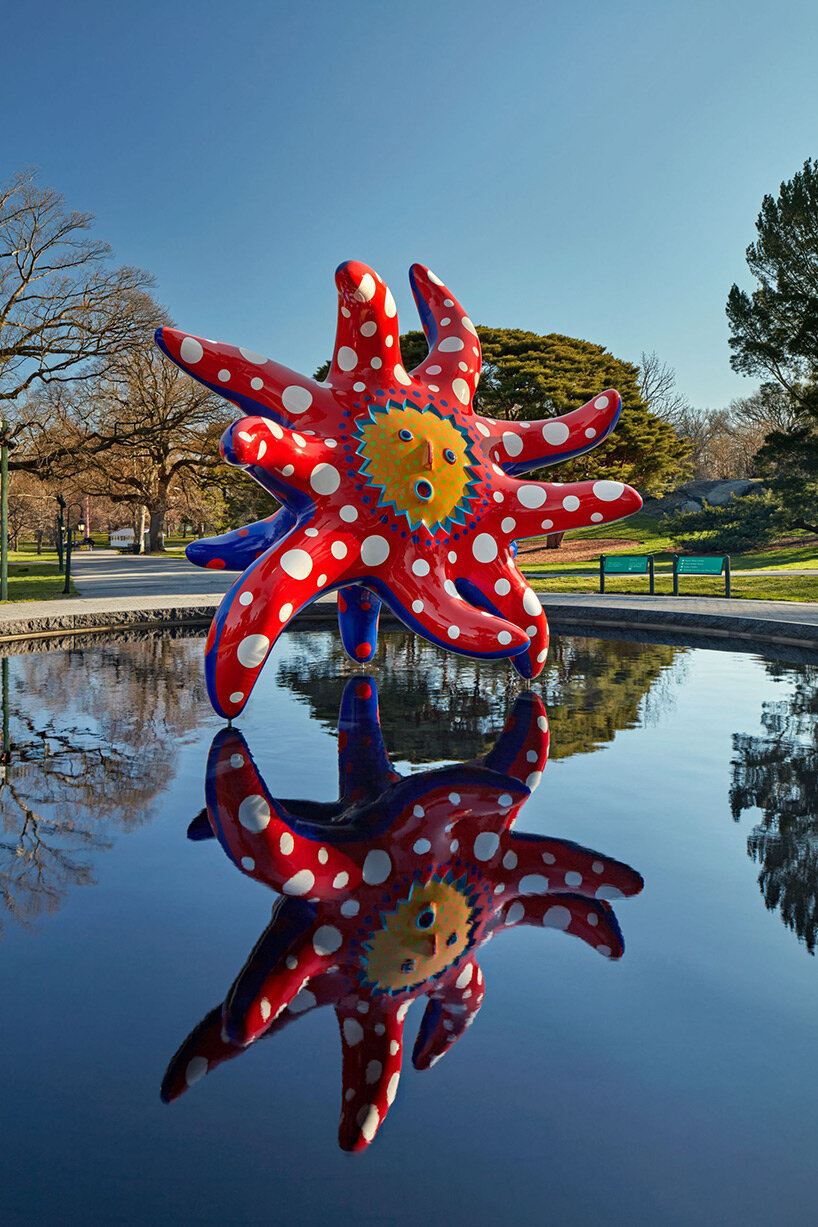 I want to fly to the universe, 2020, the new york botanical garden
urethane paint on aluminum, 157 3/8 x 169 3/8 x 140 1/8 in. (400 x 430 x 356 cm)
collection of the artist, courtesy of OTA fine arts and david zwirner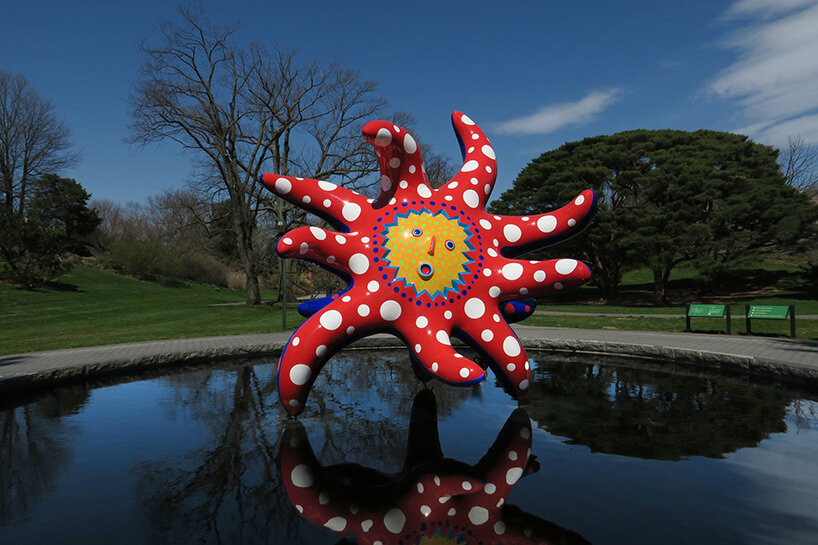 I want to fly to the universe, 2020
image © paul clemence from ARCHI-PHOTO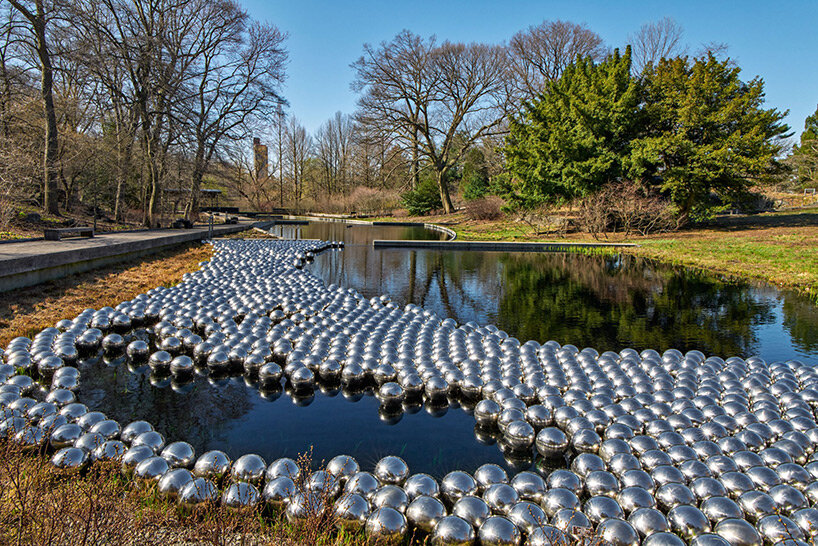 narcissus garden, 1966/2021, the new york botanical garden
1,400 stainless steel spheres
collection of the artist, courtesy of OTA fine arts, tokyo/singapore/ shanghai; david zwirner, new york; victoria miro, london/venice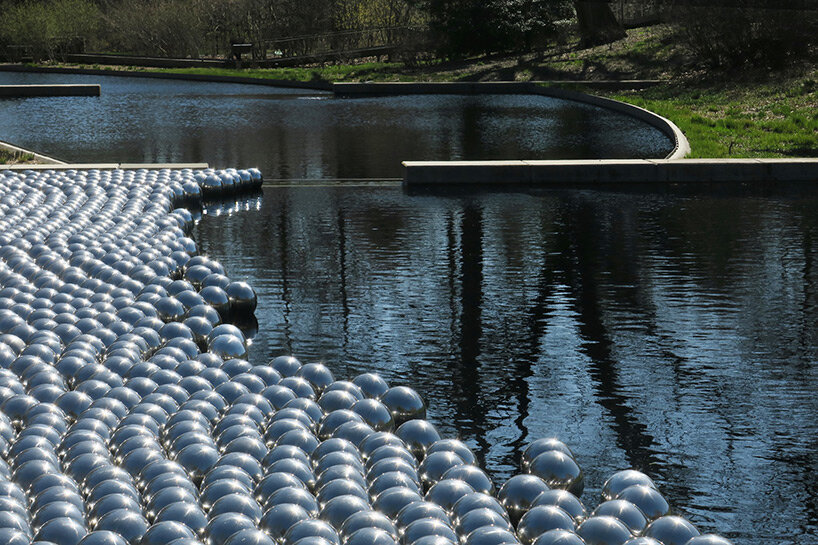 narcissus garden, 1966/2021
image © paul clemence from ARCHI-PHOTO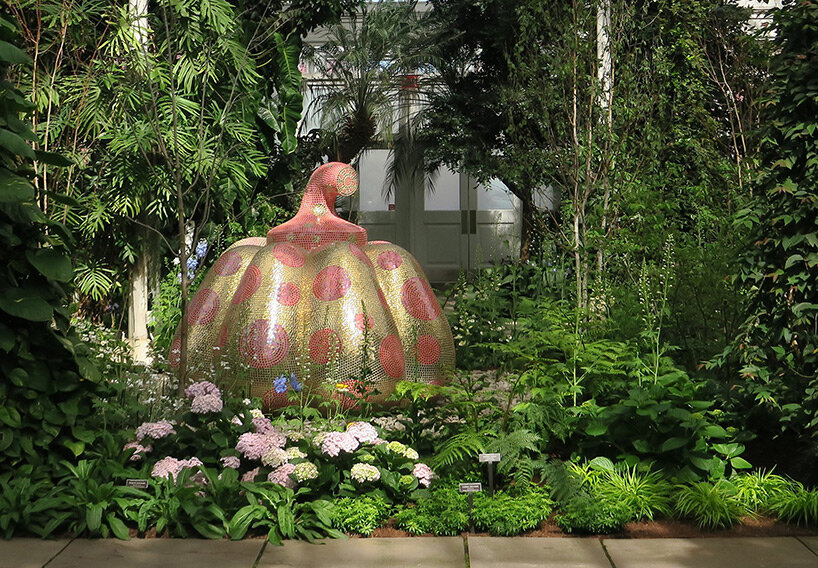 the pink-and-gold mosaic starry pumpkin (2015) is featured among a woodland garden of foliage
image © paul clemence from ARCHI-PHOTO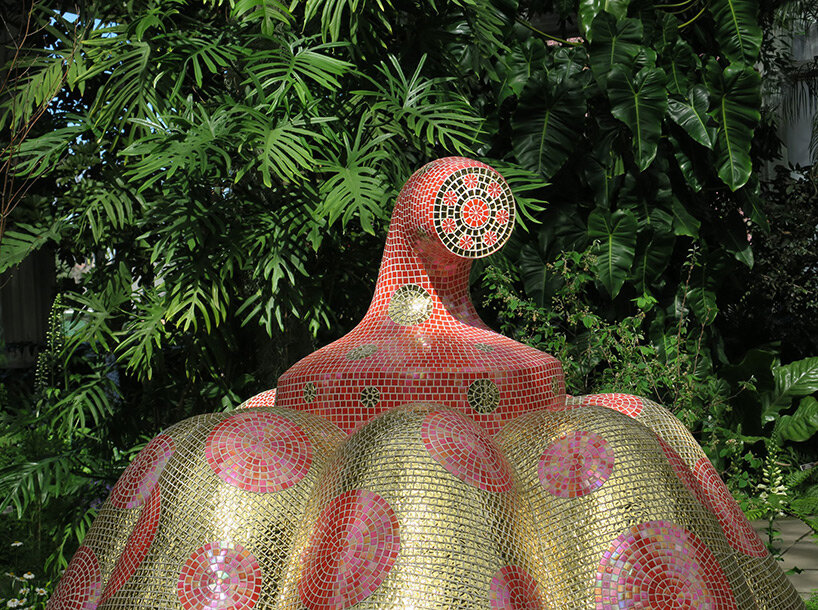 starry pumpkin, 2015
image © paul clemence from ARCHI-PHOTO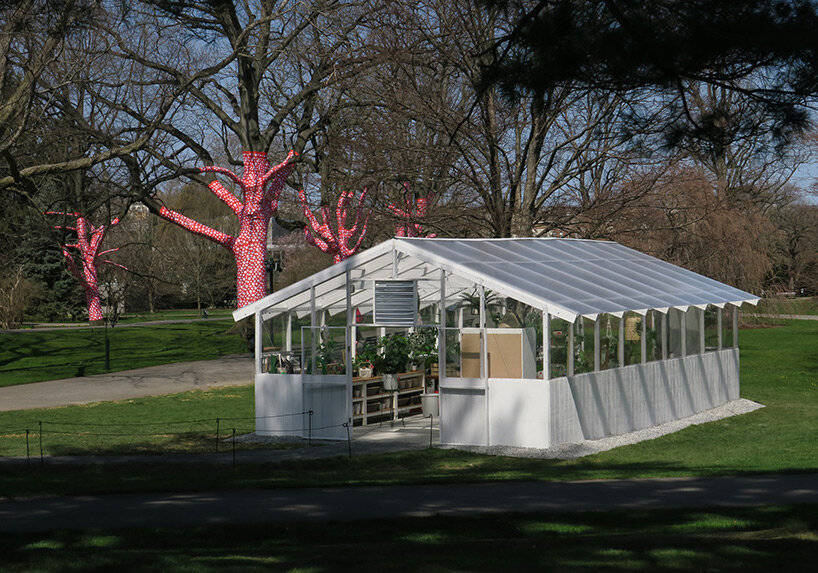 flower obsession (2017/2021), kusama's first-ever obliteration greenhouse
image © paul clemence from ARCHI-PHOTO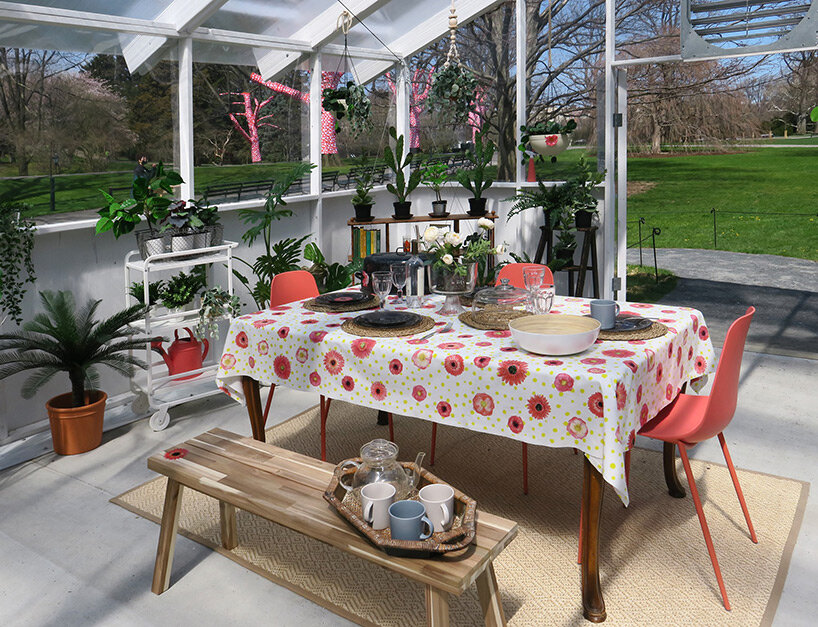 flower obsession, 2017/2021
image © paul clemence from ARCHI-PHOTO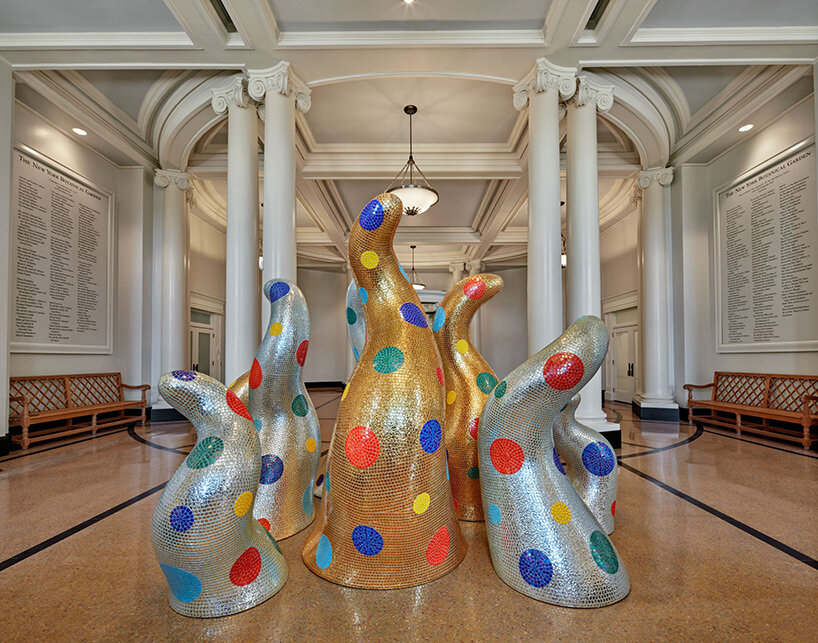 life, 2015 the new york botanical garden
fiberglass-reinforced plastic, tiles, and resin installation dimensions variable
collection of the artist, courtesy of OTA fine arts and david zwirner
exhibition info:
KUSAMA: cosmic nature
location: new york botanical garden
dates: april 10 – october 31, 2021
ticketing: here
visitor information: here